Updates:Share
12-18-2013: This will be the last update you see here. Since I am part owner of the new ATV and Side x Side parts company www.warpoffroad.com I have decided it would make the most sense to post my racing updates there. Please join me there to read about my racing stories and more! To get straight to the racing blog please go here: http://www.warpoffroad.com/racing-blog/
12-10-2013: I updated the trophy quad page with info about the Wraith 1000 ultimate trophy quad. I got 4th out of 7 pros at the last AZOP race and we got a disappointing 4th in the pro class at last weekends freezing cold Henderson 250. So we ended up 3rd for the season. Looking forward to this weekends Searchlight GP and next months Parker 250.
11-30-2013: I have won the last 3 AZOP races, there haven't been a lot of pro entries and people are missing out...the courses AZOP puts together are amazingly fun. So I have wrapped up the pro championship for this year and looks like we will get 3rd in Open Pro in Best in the Desert. We will be back next year for the championship in BITD.
I started an ATV/UTV business with my friend and it is very exciting. Our grand opening will be in January but we can accept orders now on lots of items. Please check it out www.warpoffroad.com
I also purchased the local quad forum www.arizonaquads.com I hope to get the readership up and to help promote local events and rides as much as possible. In between all of that my wife also gave birth to our son Ryken and that is very exciting!

Lots of races coming up so wish me luck, tomorrow is another AZOP race then Henderson 250, Searchlight GP, Parker 250 and then Baja 250.
10-23-2013: The raptor part out is going well. Still have the engine, shocks, frame, and fuel system. In September I placed 1st in the pro class at the Kingman AZOP race. The course was fast and smooth. Then in October the AZOP series went to Tonalea near Tuba City and had the best course of the year so far. I placed 1st by only 4 seconds on Saturday. It was a very fun and hard race. You can see the article here.
9-13-2013: I am going to part out my desert Raptor. If you need any high quality parts please email me. Everything on this thing is the best money can buy. This includes the entire oversize fuel system. Read more about the fuel system here.
8-28-2013: We placed 2nd in Open Pro at the 540 mile Vegas to Reno race this month. Read about it here on atvriders.com
I also placed 3rd at the Cinder Mountain 100. It was a very tough and rough race and very fun too. There were 9 pros on the line. The event write up is here.
My Moose gear has 8 months worth of racing on it and still looks like new. No threads pulling out of the pants and the jersey is still like new!
The next race is September 15th in Kingman, hope to see everyone there.
6-26-2013: It's too hot to race and too hot the even leave the house in AZ so I went to West Virginia to give GNCC racing a try. I raced one of Adam McGill's backup national quads and I had a blast. Read all about it here.
5-9-2013: I was winning the last round of the AZOP race at motogrande when my engine died and would not restart. I pushed the quad about 1/4 mile around the permieter of the mx section and took the checkered flag so I could get my finisher points. It was my first DNF on the Honda in a few years, turns out a little titanium valve spring retainer broke. Getting it fixed in time for AZOP Rocky Point.
Joe and I raced Pro at the BITD Silver State 300, we were tied for the lead halfway through the race then we started losing time to the winners but we were still solidly in 2nd place until the 2nd to last pit. The quad wasn't running great and we ended up dropping to a disappointing 4th out of 6.

I've uploaded some useful docs for converting an electric start 450R to kickstart thansk to OTMTRX on TRX450r.org. Docs here.
4-24-2013: I won first overall at the AZOP Vidal, CA desert race. Helmet cam here. Then last weekend I did round 4 of the WORCS series in Utah and it was awesome. The course had some very brutal long whoop sections and some really fun desert/dune sections. The scenery there is unbelieable. I placed a best ever 3rd in Open A and I was the 11th qualifier for the Pro Am. I stepped up and finally did the pro am race and I got 8th place. I was very pleased. Helmet cam here and Garmin GPS here.
3-28-2013: I went to Lake Havasu for round 3 of the WORCS series. There were over 1400 entries combined with the bikes, quads, and UTV's. The relatively short course was hammered, probably the roughest race I've ever done, no place to rest. I placed 9th on Saturday in Open A and qualified for the Pro Am race. But there is no way I was paying to do 105 minutes on that track! So I raced 30+ A on Sunday and got 5th. I was hoping to do better but my cardio wasn't there for a race like that. Looking forward to some real desert races coming up. April 7th in Vidal CA and May 18th in Rocky Point both with the Arizona Off Road Promotions group.
3-14-2013: Finally riding again! I was a late minute addition to the 3A Pro ATV team at last weekends San Felipe 250. Felt great to be riding and racing again. We finished after the time limit due to 6 hours of downtime with electrical problems. My helmet cam footage.
1-30-2013: Wrist still isn't healed so still not riding. I am also selling the Pro Desert Raptor, please spread the word.
12-5-2012: Unfortunately it took 6 weeks for my wrist fracture to show up in the 2nd MRI so I had surgery last Tuesday. So no riding for at least another 6+ weeks. I am very bummed to be missing the Parker 250 but I hope to make the Canyon WORCS race so I can start earning points for the 14 race Off Road Challenge Series!!
I also sent this sponsor thank you card to all my sponsors, thanks!!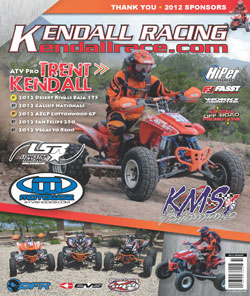 10-17-2012: I hurt my wrist 2 saturdays ago so I was relegated to pit guy this weekend while Adam teamed up with Tom to win the Expert class at the AZGP Motogrande team race. The course looked awesome, I am bummed that I missed it. I am also missing my trip back east to the GNCC race this weekend. I will be riding again in December and we are once again comitted to the entire 2013 Best in The Desert series in the pro class!
9-24-2012: I teamed up with Shiloh for the final round of the AZGP Canyon night race series on Sat night. We got first in the quad class and 3rd overall with the bikes. It was a fun race. Thanks to KMS for building a great engine and Motowoz for the awesome shocks. The race was rough and rocky and fun. Garmin GPS log
9-6-2012: I got 3rd in open pro at last weekend AZ GP race in Cottonwood. My heel guard broke off the frame and I had to stop in the pits to get it ripped off. Cost me some time but still a fun race. Helmet Cam footage.
8-22-2012: My Vegas to Reno story is posted here!
8-14-2012: We are all prepped and packed for Fridays big Vegas to Reno race. We are 3rd off the line in the pro class. This is the biggest race of the year for us. We will be live tweeting updates @kendallracing.
7-31-2012: I won the pro class in El Paso last weekend. It is a pretty good story, click here for the story and helmet cam.
7-25-2012: We drove out to Gallup, NM last weekend for the Chupacabra 100 put on by NMORS and AZORP. It was a fun race, very technical and well worth the drive from AZ. Can't wait for next year, they are adding another 9 miles to the course with more high speed sections. I placed 2nd in Open Pro. Here is the helmet cam footage. Heart Rate and GPS Log. Race Results.
6-25-2012: I updated the ATV weigh in page...I weighed the Hiper wheels, Pro Fills and ITP Holeshot HD tire on a shipping scale. These tires are heavy! The pro fills are basically non existent which is cool. I also teamed up with Adam at this months Speedworld Night team GP and we won the Limited class. It was a fun race!
6-12-2012: I have been riding for about 3 weeks now. I still can't train much but riding doesn't hurt my leg. Nick and I won the team GP in Tucson last month aboard the heavyweight Raptor. Then this past weekend Adam and I won the limited class at the Speedworld 2 hour night GP. It feels great to be racing again. Looking forward to the AZ GP series 3 hour night GP at Canyon at the end of the month. We are getting the Raptor ready for Vegas to Reno, looking for a top 2 finish in the Pro class there.
4-5-2012: I fell off a ladder like a dumb dumb and tore my ACL and fractured my Tibia so no racing for a while. I have been bored so I updated the tech page with up to date into on the 06 and 05 Hondas.
3-15-2012: My San Felipe 250 (Baja 250) story is online here.
2-24-2012: My awesome custom, championship winning LSR chassis is for sale. I need the money to fund my Pro BITD season. Here are the details.

2-21-2012: I have been doing the local races put on by http://arizonaoffroadpromotions.com/ and they have been great. Everything runs on time or ahead of schedule and the results are posted quikcly. The pro payouts are also good. I placed 3rd at the Verde Valley GP and this past weekend I got first overall with Nick Steinman as my team mate. Here is the video footage: www.youtube.com/watch?v=CIkz5jZCxLg
1-11-2012: After countless hours and lots of money getting ready for the Parker 250 and our Pro BITD debut we ended with a very disappointing DNF. The engine suffered a failure on lap 1 while we were in the lead pack of Pro quads. Still not sure what broke, we will tear it apart soon. I did add some finished Raptor photos to the Raptor page. It turned out very nice.
12-27-2011: The guys from Grinding Stone MX park have put together a great ATV/MC GP series for 2012. Check them out: www.arizonaoffroadpromotions.com
12-6-2011: We didn't do very good at the Henderson 250 last weekend. We didn't get enough test time with the new awesome 70+ horsepower KMS engine and it sucked down way more fuel than exected and we had to run the stock fuel tank. So we found out the quad goes 45 miles on 2.9 gallons, too bad we needed to go 46 miles. So we ended up 4th or 5th for the race and 3rd for the BITD Expert season.

For 2012 we are moving up to the pro class with this Raptor 700 with the help of KMS Performance. The engine will be even more powerful. We just have to dial in the suspension. Follow along with the build using the Pro Desert KMS Raptor link on the menu.
11-23-2011: Kendallrace.com is mentioned in the latest issue of Dirt Wheels magazine. They provided a link to my tech article about putting an 06 TRX engine in an 05 frame. I recommend against doing this, it is hardly worth the effort but all the stuff to do it is provided in my article. :) Thanks for the mention dirt wheels!

I finally posted the article about the Raptor 700 custom desert tank.
11-15-2011: I tried my best to qualify for the WORCS Pro Am race last weekend and I barely did it, by getting 11th in the Open A class on Saturday. But the 40 minute race was really hard on me, either I suck at turns or my quad isn't setup right for it or both. My shoulders and forearms were dying after only 1 lap. It felt like I was fighting the quad through every turn. So I chickened out on the 90 minute Pro Am race and settled for Sunday's 30+ A class. I finished 3rd there in the mud. If I plan on doing more GP racing I will try a different setup with my suspension and probably a lower steering stem.
Here is my GPS log from the race.
The KMS Raptor for 2012's Pro BITD season is going to be a monster, we will be using next months Henderson 250 as a testing ground for some of the new parts.
So far I like my lightweight EVS Revolt chest protector, it is much more comfortable than a traditional protector and it guards against the roost just as well.
9-12-2011: I placed 2nd in the Open Pro class in yesterdays Cinder Mountain 100 race, it felt great to be back racing Whiplash again. The race course was brutal but fun.
9-6-2011: We are teaming up with KMS Performance to take on the Pro class in Best in the Desert for 2012. We will be building the Raptor 700 into a fire breathing monster. The title sponsor will once again be the Big Bang Entertainment video game company. We will be documenting the entire build here.
8-22-2011: We had a very disappointing weekend at the Vegas to Reno race. We were leading our class most of the day and we were top 1 or 2 overall quad on the course when our engine started losing power and eventually dying so we did not finish, we made it almost to pit 11.
8-7-2011: I got tazered at Taser HQ to raise money for my friend Sterling's kidney transplant. You can get access to the video here.

Kenny and I won first place in the ATV class and the Grinding Stone night race in July. It was an awesome race.
6-6-2011: I raced with a Sportsmen ATV team at the Baja 500 and we finished in 4th place. I got great helmet cam footage of me being passed by the trucks and buggies on a high speed section. Full Story and Videos Here.
5-16-2011: We got 1st in class and 6th overall at the Blue Water GP! That is a really cool place to race, pitting on the beach is awesome.
Results with laptimes
5-6-2011: We got 3rd at last weekends Silver State 300. We are 3rd or 4th in the points, hopefully we do well at the Blue Water GP next weekend!
4-13-2011: James Woodford Baja 250 Ironman story has been posted here!
2-2-2011: We are having a benefit ride at Grinding Stone MX on April 23rd. It is a normal practice day with all kinds of fun side events, free lunch and all proceeds go to riderdown.org. Please attend!
Facebook page with more info.
1-13-2011: My article all about my experiences with the X Travel custom chassis is up. Click here to read it and see pics.
1-11-2011: Well after many hours of hard work getting the X Travel chassis ready for the Parker 250 we ended up with a DNF. We were running good in 2nd place when the low hour engine seized up. :-(
12-16-2010: I added a page all about the Big Bang Desert Racing team and a page for the XX Army Desert Team.
12-6-2010: The Big Bang Entertainment Desert Racing team had a rough race this weekend, when I was on the quad I stopped for a downed motorcycle rider which set us back 2 minutes, then we had 2 flats so we ended up in 4th for the Henderson 250 and 2nd for the 2010 Best in the Desert Expert Championship.
12-3-2010: Thanks to Dunlop ATV for sponsoring me for 2011. I will be using their 20" Quadmax Sport tire for all short course and GP races.
11-22-2010: My "Trophy Quads" compliation page is up. Lots of big wheel travel quads in there including some nice Hybrids like Greg Stuart's. Go here.
11-1-2010: I finally posted my big wreck story and images here. I can't believe my axle and steering stem broke at the same time, who did I piss off? :-)
10-13-2010: Major lack of updates lately, my axle snapped in practice causing me to lawn dart into the dirt and I broke my back, scapula and messed up my knee and cheekbone a bit. That happend on September 27th and I am still in a backbrace. I am hoping to be ready for the final BITD race of the season but chances are not very high right now. It was my first real crash ever and it sucks that it was due to equipment failure. :-( I will be running the LSR pro axle from now on, the axle that snapped was made by someone else.
8-23-2010: We took first in the Expert class at the Best In the Desert TSCO Vegas to Reno race!!! This is the biggest off road race in the United States. Story here.
8-18-2010: Thanks to Diego at Baja Designs for rushing out a set of lights for our Vegas to Reno quad and handling all our questions.
I also just had my alpinestar boots resoled by a place in Phoenix, it was only $25 plus $55 for the soles online. If you need your boots repaired I suggest these guys:
Wolverine Boots 623-847-0000. I found them on google and they did an awesome job.
8-9-2010: Thanks to Lone Star Racing for doing some custom mods to my LSR frame, hopefully this will cure my pivot bolt problem. I got 3rd at the Cinder Mountain 100 this weekend, it was a very rough but fun race. I missed the overall win by 40 seconds! My last lap was my fastest lap and I was the fastest on the track on the final lap. Big thanks to Motowoz for the awesome shock setup for the never ending whoops! I am up to 2nd in the points now even with 1 missed race.
Check this vid to see what I mean.
My Vholdr Helmet Cam Footage is Here.

7-14-2010: Big thanks to Quadtech for sending me a free seat cover to replace my ripped one! I never expected a warranty on a 3 year old seat cover! Thanks again!
7-7-2010: I placed 2nd at last weekend Firecracker GP in Prescott AZ. It was a fun race! Click here to check out the 2010 Poster I made to thank my sponsors.
5-17-2010: Very busy weekend! I raced in the BITD Blue Water GP and the Page Slick Rock 100 on Sunday with Whiplash. Check the stories section for the big write up.
5-10-2010: I added the helmet cam videos from the Silver State 300 and from Speedworld MX practice.
3-30-2010: I have added quite a few new Vholdr HD helmet cam videos from around Arizona in the multimedia section.
3-19-2010: I placed 3rd in last week's Whiplash Prescott Valley GP. I had really bad arm pump again for some reason so the race was really hard for me. Here is some of my helmet cam footage from my Vholdr Contour HD camera.
2-23-2010: I just finished up my giant article on racing baja, it contains everything I have learned in the past few years and I think it will help out anyone looking to race in Baja. Racing Baja Article.
2-18-2010: I place 2nd in the 1st Whiplash Desert race of the season last Sunday! The season is off to a good start.
Please plan on going to Grinding Stone on April 10th for Larry Beshaw's benefit event. More info here:
http://beshaw.jonre.com/
http://kendallrace.com/bor/larryb.pdf
1-11-2010: We placed 2nd in the Expert class at the Parker 250 on Saturday. Story and photos in the results section!
12-15-2009: I updated my sponsors and schedule for 2010. I also put together an Arizona Quad racing schedule that includes all GP and desert series. You can download it here: 2010 Arizona Quad Racing Schedule
I also uploaded a new tech page regarding the Teixeira Tech Long travel rear linkage and Motowoz Long Travel rear shock. Go the tech section to read it.
I also dyno'd my quads last weekend. Check the tech section for info.
12-8-2009: I am the 2009 Whiplash Desert Racing Sr Pro champion! I was behind by 8 points going into the final race this past weekend. Read the story here! I am very happy.
11-24-2009: My big Baja 1000 story is up, check it out! The vholdr helmet cam footage turned out great at night too!
11-17-2009: The guys at Vholdr.com have teamed up with us to bring you HD footage from their line of wearable, stickable, clampable HD cameras.  I will be wearing one of their cameras during the Baja 1000 this Friday and for all future races. Go check out their cameras, their goggle strap mount is awesome.
11-10-09: Last weekend we completed our pre run for the 2009 SCORE Baja 1000. The entire writeup with pictures, helmet cam and GPS logging can be seen in the results and stories section.
10-20-09: I will be racing the Baja 1000 next month in the Pro 450, Class 24 with the 101A team. The team consists of Brian Harris, Barry Bennett, Pete Garcia, Cody Mitchell and myself. I am very excited and thankful for this opportunity. Thanks to Ray Fay for the reference!
I am still 2nd in the Sr Pro points chase with Whiplash, there are 2 races left!
9-28-09: Some friends and I drove out to Glen Helen for the WORCS Pro race yesterday it was great! Glen Helen is much larger and crazier in person. I'd love to try that race next year! Photos Here.
9-18-09: I have been using underWARE glove liners for a few years and I have been developing holes in them every 5 hours or so. I emailed the company and they asked me to send my gloves in. They looked over the gloves and we determined I haven't been washing the gloves often enough, these kevlar gloves should be washed after every use. Then they sent me 2 pairs of free gloves! Their gloves do a great job at stopping blisters and I think they will last even longer now that I will be washing them appropriately. Big thumbs up to Off Road Specialties the makers of the gloves.
http://www.off-roadspecialties.com/
9-8-09: I got my second win a row last weekend at "The RACE" in Snowflake! I am very happy!
8-11-2009: I placed 1st in the Sr Pro class at last weekend Whiplash race at the Cinders!! Full write up in the results section.
7-7-2009: After a month of waiting Score released the official results for my class. Our team only received a very small speeding penalty and the team who had unofficially finished ahead of us received larger penalties which resulted in us moving into 1st Place!! Official results here.
6-11-2009: I raced in the 2009 Baja 500 last weekend. We placed second in the Sportsmen ATV class. Check out the story here.
5-11-2009: I got the quad all assembled with the new LSR frame, Texeira Tech linkage, Motowoz LT rear shock, etc. Check the tech area for full details.
4-27-2009: I placed a disappointing 4th in Sundays Whiplash Firebird race. Check the results section for details. I am also in the middle of rebuilding my race quad again, details in the tech section.
3-18-2009: I received a copy of the new ATV Insider magazine. I scanned the article and you can read it in pdf format here. Thanks to Michelle Forster for the baja photos and DGP Photography for the photo of me on my quad. Thanks to Dave at ATV Insider for using my story and thanks to allfaysracing for the opportunity!

I also missed my first race in 2 years this past weekend due to a horrible flu bug. I hope I can make up the ground I lost in the points chase.

3-12-2009: My baja story will be featured in the latest issue of ATV Insider. They have a great subscription only magazine. Check them out here.
2-26-2009: I got my first Pro win this past weekend. Please check the results page for info!
2-9-2009: I updated the results page with results from the Whiplash opening race. I took 2nd in my first Senior Pro race!
1-26-2009: I added a gear calculator to the tech page. I also took a disappointing 7th out of 14 at this weekends WORCS race in the 30+ A class. I got horrible arm pump after lap 1 and had to slow down.
1-7-2009: DGP Photography is now a sponsor of Kendall Racing. Thanks to them for coming on board, please visit the sponsors section for more info.
1-2-2009, 2009 Season Update: For the first time I sat down and created a racing resume a few months ago and sent it out to the companies who's products I use. Many of them replied and I am happy to announce that I am sponsored by the following companies for the 2009 Racing Season: Motowoz Shocks (returning from 2008), GT Thunder, DFR Racing, JD Performance, BRM Off-Road Graphics, FASST Company and Beshaw Off Road Racing. You can read more about them in the sponsors section.
12-10-2008, 2008 Whiplash Racing recap: Well what a season. Going into the last race in order to win the points title for the Whiplash Racing Open Expert division I needed to win my class and I needed the class leader to finish 4th or worst. I ended up winning the race at Vulture Mine and the class leader finished below 4th so I clinched the points title! All of the hard work paid off.
2008 Baja 1000: I had the once in a lifetime chance to race in the 2008 Baja 1000 on a Pro Quad team thanks to the great people at www.allfaysracing.com You can read all about it here. There are pics in the multimedia section.
2008 Best in The Desert: I raced in my first BITD race at the Las Vegas 150 in October. I entered the Quad Ironman Amateur class and took first in my class and I was the 2nd overall ironman. The people were awesome and the course was fantastic.