2010 Vegas to Reno, 1st in Class! Share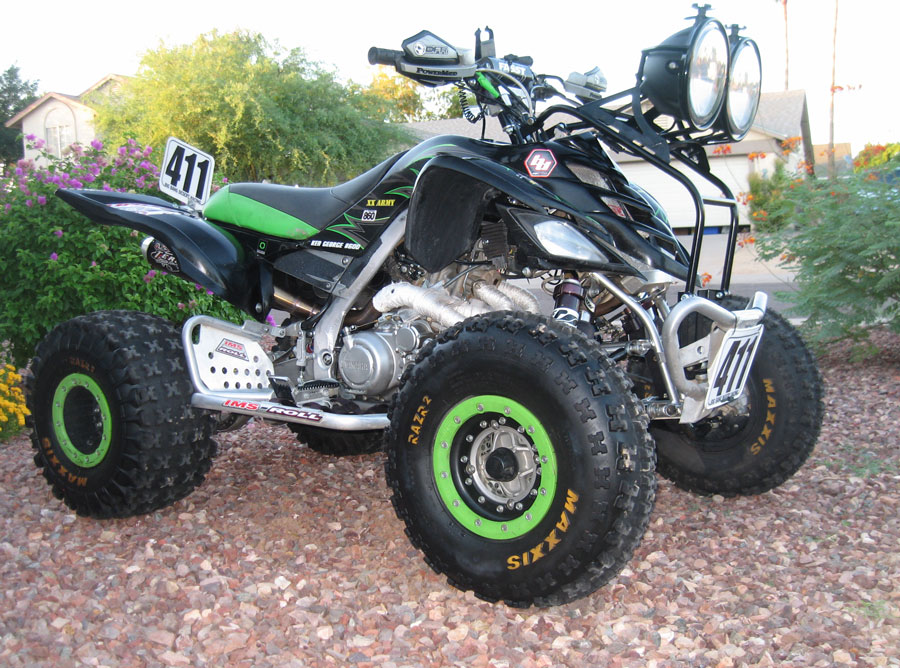 The 2010 Vegas to Reno race was more important than ever for the Big Bang Desert racing team. We were 2nd in the Best in the Desert Quad Expert points championship because we had a DNF at the Silver State 300. We HAD to finish this race to have a chance at the season championship. If we had another DNF then the our chance at season championship was over. So we altered our strategy and focused on simply finishing the race, not winning.
During pre race testing we ran into a few weird electrical problems. On one ride the quad would flash the "R" reverse light on the dash and there would be a 4000 rpm rev limit. On one occasion the quad completely shut down with no warning, no dash lights, no power, nothing but the battery was fully charged. The engine made great power and the suspension was dialed but these problems were troublesome. Team rider Joe Ramos ended up cleaning up the reverse circuit wiring and his pre race ride went great so we thought we had it all sorted out. Rudy at Dirt Fiend Racing did a pre-race prep on the quad and packed all electrical connection with di-electric grease.
The day before we had to leave for our trip we discovered that the throttle cable was completely frayed even though it had only 10 hours of time on it. Tracking down a Motion Pro Cr Pro twist throttle cable for an EFI raptor is really hard. Mike at United Distribution overnighted some for us but just in case the overnight delivery didn't make it in time we had one overnighted from Motion Pro to a dealer in Vegas.
We arrived in Vegas and passed the more stringent tech inspection. Then on the short ride to the truck the stupid "R" light started flashing again. So we bypassed the reverse switch in the parking lot before the riders meeting and hoped for the best. After the riders meeting we left for our hotel in Beatty Nevada where the starting line was. Halfway to Beatty we got a call from Joe stating that the reservations we made a month in advance at the Atomic Inn were no longer valid. His wife called to check on our rooms and they had no record of our reservation. Our confirmation numbers meant nothing, apparently the whole hotel was in disarray. So we spent the next hour on the phone in spotty cell reception trying to find another room in or near this tiny town of Beatty. We found a few rooms at the price gouging amount of $130 each in Beatty. It was getting close to 11pm and we had to be at the starting line at 5:15AM the next day so this was obviously pretty frustrating. Joe and his team ended up staying in Beatty while my crew stayed in a one horse town on the border of California; they had all kinds of alien stuff there since it is close to Area 51.
Friday, raceday: We woke up at 3:45AM so we could make the 45 mile drive to the starting line in Beatty. The pre race morning prep went fine and I was ready to ride. All of the competitors were lined up near the Red Bull Arch when they told us to fire em up and parade up to the start line. The Raptor 700 fired and died after 2 seconds. No dash lights, no nothing. Push starting had no effect. So we started looking at the ignition switch and found some bad factory connectors. Meanwhile the race was starting and we were scrambling to fix the problem. We ended up zip tying the connectors together extremely tight and that cleared up the issue. That was a load off but I was still worried about it happening again.
I started the race and it was EXTREMELY dusty. I imagine that section of course would have been fun if I was able to see more than 10 feet. There is no wind at all that early and the dust just hangs eerily over the trail. There were sections that headed in the direction of the rising sun which allowed me to see about 5 feet in front of me, it was blinding! Eventually the breeze picked up slightly and I was able to pick up the pace. I passed a few bikes but I didn't catch any quads. The stop at Pit 1 went fine and everything appeared to be in order. The section from Pit 1 to 2 was fun, we went through a dry lake bed and the raptor pulled strong. At pit 2 we discovered that the Fuel Customs Intake had come off the throttle body. So we sucked who knows how much crap through the fresh engine. It took a while to get the intake back on and our lead over 4th place was completely gone.
Joe hopped on and rode to pit 3. At pit 3 I think Joe came in 2nd place. He had passed Jason Fritz's 440 team which was pulled over on the course. We checked the quad and the intake was off the engine AGAIN! This time we stuffed a bunch of stuff in the air box to limit the filter's movement. The next section was the longest section at 60 miles pit to pit. I jumped on and took off. This section had a lot of changes and some fun roller coaster like areas. I also had a lot of wide open 5th gear sections and I noticed the engine was not pulling 5th gear like it was earlier, I was pretty worried we had damaged the engine with dirt.
Towards the end of this section the engine started sputtering and died on me so I limped it to a good spot and pulled over. I couldn't believe it, we were out of fuel. During our testing we were able to go 62 miles at race speed before the fuel light came on and then another 5 miles before empty. Well, not in Nevada! So I took my reserve fuel off of my pack and poured it in hoping it would get me to the pit, I thought I was close to the pit. Then after 2 miles the engine was sputtering again. I was still 6 miles from the pits so I pulled over and took our emergency fuel off of the bumper. Every motorcycle I had passed in this section passed me back while I was messing with the fuel.
I rode slower to conserve fuel but a mile from the pit the quad was sputtering again so I road VERY slowly into the pit to conserve fuel. In the pits the intake was off the engine again. We tried some zip ties and more rags in the airbox this time. This was our longest pit stop yet and the 449 team (the current points leader) barely passed us in the pits, also one of the ironman entries passed us. I believe it was this pit where the leading team #445 was pulled over with a broken bearing carrier. So we went from 2nd to 1st to 2nd during this pit stop. Joe hopped on the quad and was literally 1 second behind 449.
We rushed to the next pit and the 449 team came in about a minute ahead of us. Thankfully the intake was still on the engine this time so we fueled up and I hopped on and took off. This section had some very technical and very rocky sections. It was also about 100 degrees out and this was the first time I tested my fitness. I just kept on it avoiding the day ending boulders and the terrain flattened out. I saw some dust up ahead so I got excited and pushed to catch up and it turned out to just be another bike. I caught up to more dust and it turned out to be the ironman quad who had passed us two pits earlier. I made it around him and I knew the 449 team had to be close and sure enough I saw them going up a hill about half a mile ahead. I road like a lunatic and caught them. They were extremely courteous and they let me know they saw me and they pulled over and let me by. We were finally in first place! Of course I had my other goggles on this section and I didn't have the helmet cam. I rode hard to pit 7 and I think the intake was still on the engine so we got out of the pits staying ahead of 449 for once.
Joe rode strong from pit 6 to 7 and to 8 and he kept our lead. In the pits we talked to Jason Fritz #440 and he said they had broken a tie rod earlier but they were all fixed up and charging hard. I jumped on at pit 8. The quad was running even more inconsistent at this point. Sometimes it would pull 5th gear in the straight flats and other times it would barely rev out in 4th. This section went up into the pine trees and it had some nice flowing switch back roads. It was fun and it got more fun when I felt the right rear tire going flat. Luckily the section was mostly higher speed and the quad handled ok at higher speed but it wouldn't get traction in the slower 1st gear stuff. I was giggling inside my helmet drifting the quad on the flat tire; it doesn't take much to keep me entertained. The seat also kept popping loose in front, I stopped twice to fix it and finally just let it be.
We slapped on a new Hiper wheel and Maxxis RZR II at pit 9 and we checked the oil. We were down on oil and we are lucky we caught it when we did. We also added a bungee cord to hold the seat down. We maintained our position during this extended pit stop and I took off. At pit 10 it was getting hot again, not sure what the elevation was but I was sweating. Between pit 10 and 11 I looked back and saw a quad catching up. I was bummed out thinking that 449 was catching me. Heading into pit 11 there is a long uphill 5th gear section and the Raptor would not pull 5th gear at all, I was stuck in 4th. The quad behind me turned out to be Jason's #440 team; I waived them by and then noticed my pit team was nowhere to be found. I had beaten them to the pit. Joe was supposed to get on at this point since I had been on for 65 miles. I asked how far it was to the next pit and it was only 20 miles so I told Jason and some other random pit guys to let my team know that I was going on. I also stopped at the next road crossing and asked the officials to get on the BITD radio channel and tell my team I was headed to pit 12.
Pit 11 was also the pit where the 3 chase trucks were going to split up and head to different pits to cover the remote areas where it is not possible for the chase truck to beat the racer from pit to pit. So when we were unable to make the rider change here it complicated things for the chase team. Thankfully they thought quickly and changed the plan and got the trucks heading in the right direction right away. I became privy to this change when I pulled into pit 12 and I only saw one truck. Chris smiled and said you are riding to pit 14 now; Joe will get on there and ride to the finish line. I said it sounds like fun, where am I again?
They told me I was at pit 12 and I had to go to pit 13 where my dad would be waiting then to pit 14 where Joe and Robert would be. Also when I pulled into pit 12 I was right behind Jason's #440 team. They were in first place at this point and we were in second and they were putting on a fresh rider, Austin Newbill. I imagined we could have a fun battle if my stupid quad had 5 useable gears instead of 4.
The intake was still holding strong onto the engine thanks to our plethora of zip ties so I took off from pit 12. The next section was very whooped out and sandy. I came upon 2 motorcycles, one guy was down, he had just wrecked and the 2nd guy was checking on him. The guy who wrecked waved me over so I stopped and went to talk to him. The other motorcycle couldn't get off his bike to talk since it was so sandy and race bikes don't have kickstands. The downed rider was pretty loopy and said he flew over the bars and possibly separated his shoulder and when he stood up he had to sit down immediately. I told him I would inform the next course worker about his situation and location. His race number was 998 and he was down before mile 379. Luckily I saw a course worker within about 6 miles and he turned out to be a search and rescue guy. I stopped and gave him all the info I had, double checked he had it and then I took off.
After the sand whoops the course went onto a river retention basin road, I could have hit terminal velocity if I had the power. Unfortunately I was still stuck in 4th gear, 5th was useless. I hit pit 13 and noticed that my chase truck wasn't around again. By coincidence I saw the same group of guys that I saw at the other pit where my team didn't make it. So we joked around and I was about to ask for some fuel when I saw my dad flying up the road with Adam hanging out the window waving like a crazy person. We fueled up and added more oil here.
The next section was pretty fun but also hit hard by some flash floods after the course was marked. So there were a lot more dangers that weren't marked. I ping ponged off a few wash walls and boulders but kept it rubber side down. At this point I was still feeling great physically, my hands didn't even hurt. But my mind was slowing down; my brain wasn't able to keep up with the rate that the terrain was flying by. It was annoying. I made it to pit 14 where Joe was itching to jump on. We were still in 2nd place and probably 10 minutes ahead of the 3rd place 449 team. The quad was still running inconsistently, the bungee was still in place on the seat and the quad seemed to wander around a bit at high speed on smooth stuff.
I rode 140 miles straight and Joe had 111 miles to take it to the finish. Time wise were doing great and barring anything bad we wouldn't need the lights. The drive from Pit 14 to the finish line was about 90 minutes and it is remote so for a while Robert and I couldn't reach anyone to get any updates on Joe. Finally we received word that he had left pit 15 still in the same position. Then we got word that he had left pit 16 in first place but the quad was not running well and he was only 4 minutes ahead of the 449 team. He had made the pass for 1st place because the 440 team was broken down on the course. It turns out their engine had blown.
Everyone was very nervous; we knew we had to beat the 449 team by 1 minute and 1 second. The drive into the finish line was nerve racking. We were getting spot tracker updates from people in Phoenix and we knew Joe was close to the finish. We made it to the finish line before Joe and we ran up the hill to watch him come in and to start our watches to see if we had won. We saw a quad in the distance and it was Joe! He rode through the flying finish and down to the rodeo grounds to be interviewed by BITD announcer George for the live webcast. We started our watches and after 61 seconds we ran down the hill for the celebration. 2 minutes later the 449 team crossed the finish line. During our interview George asked the official timekeeper to give us the time margin and he announced something like 3 minutes 11 seconds and we all went nuts. I couldn't believe we had just won our class in the biggest off road race in the United States. The 449 team put up an awesome battle and they are still kicking our butts in the points thanks to their awesome finish.
Our Finish time was about 12 hours and 11 minutes.
Closing Thoughts: The course was smoother and faster than any race I have ever done. Some sections were even boring / nerve racking because we couldn't hit our top speed and I was worried about the engine blowing up. I wish we had 100 horsepower because we would have been able to use every bit of it.
We need a custom fuel cell with a dry break. The stock raptor tank is too small and we always knew that but the fact that the hole is under the handlebars and the tank is so shallow it really keeps you from being able to fill the tank quickly. It is very, very annoying and the chase team wanted to kill the tank.
I think the fuel custom intake needs some more bracketry for stability to be serious race ready on the Raptor. I called them and they were very apologetic, they have never had this happen, even in Baja. They are standing behind their product and helping us in anyway that they can. Thanks Guys!
We also completely broke the frame in the front on both sides above where the shocks mount. That might explain the strange wandering around and the extremely bouncy light rack. Wow.
Virginia City is awesome, we drove through there on the way to Reno. Panoramic photo here:
http://kendallrace.com/Images/2010/v2r/virginia%20city.jpg
Thanks to our Chase Teams and their families: my dad, Adam, Jeremy, Chris, Jamie, and Robert. Thanks to Ken George at Big Bang Entertainment, XX Army, United Distribution, Dirt Fiend Racing, Lone Star Racing, Contour HD Helmet Cams, EVS Sports and FASSTco.
Here is video from our finish line interview.
http://www.youtube.com/watch?v=QDKXXAO4-fs
Helmet cam videos, (there are 12 segments this links directly to segment 1)
http://contour.com/video/2010-vegas-reno-start-segment-1-open-expert-winners